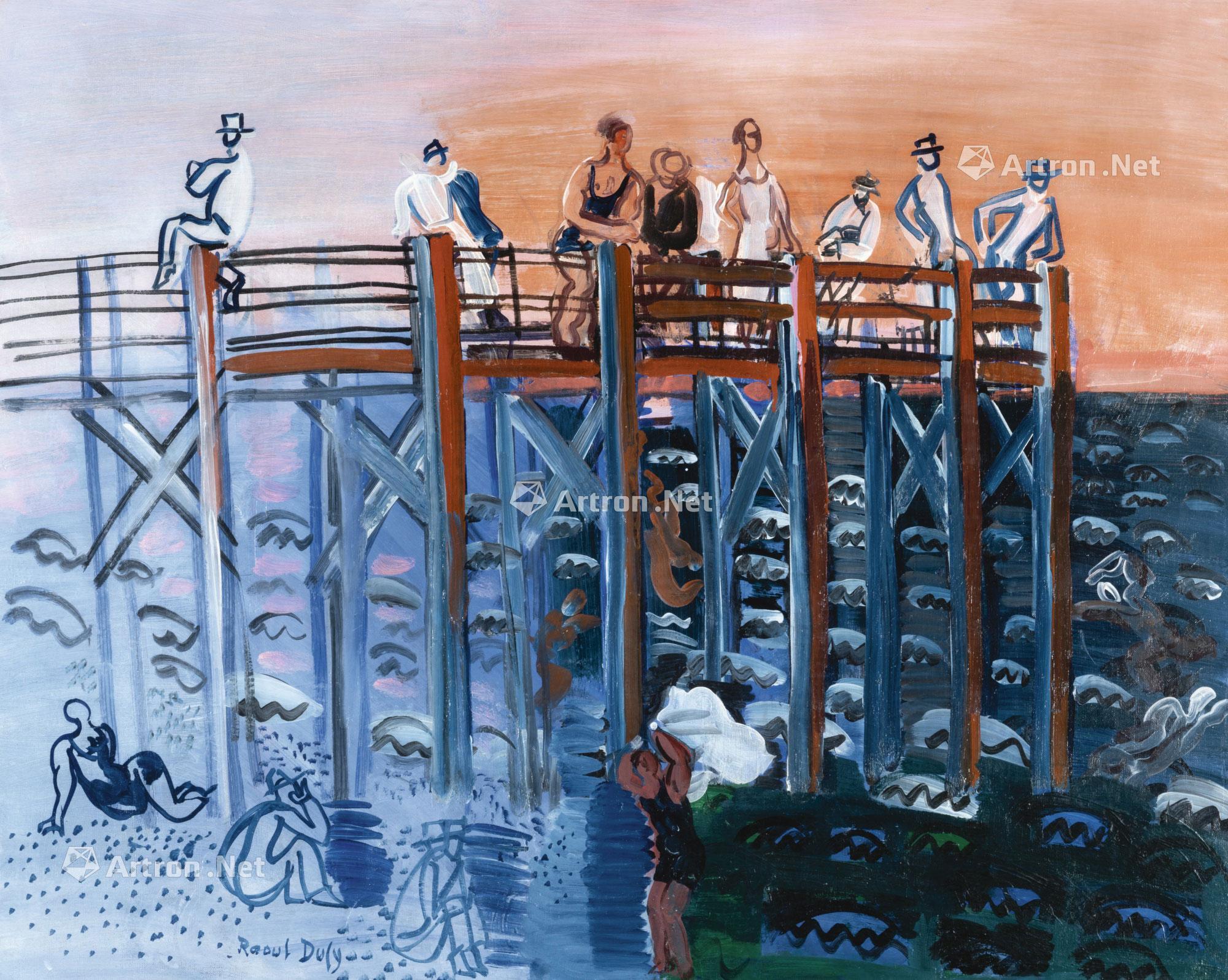 拍品信息
作者
RAOUL DUFY
尺寸
65.1×81cm
作品分类
西画雕塑>油画
创作年代
暂无
估价
GBP  150,000-200,000
成交价
登录后可查看
专场
印象派及现代艺术日拍
拍卖时间
2019-06-20
拍卖公司
伦敦蘇富比有限公司
拍卖会
2019年6月拍卖会
说明
signed Raoul Dufy (towards lower left)
Painted circa 1924-5.

参阅状况报告
重要拍卖通知

Fanny Guillon-Laffaille has kindly confirmed that this work will be included second supplement of the Catalogue raisonné de l'œuvre peint de Raoul Dufy currently in preparation.

来源
Sale: Thierry de Maigret, Paris, 5th December 2003, lot 97
Galerie Druet, Paris
Sale: Sotheby's, New York, 5th November 2004, lot 234
Private Collection, London
Acquired from the above by the present owner in 2007

相关资料
Painted circa 1924-25, the present work is a superb example of one of Dufy's most cherished subjects, the raised wooden walkway or estacade that sits along the coast of his native Le Havre. Bathers mingle merrily with smartly dressed townsfolk who have stopped off to admire the view from the jetty mid-promenade or to enjoy the sunshine and clear skies of a warm summers day on the pebbled beach. Their gestures and attitudes are recorded by the artist with great spontaneity, their outlines captured in a series of fluid, loose brushstrokes of pure colour. Dufy's free handling of paint imbues their elegant forms with a gentle sense of movement, creating the impression of a delicate sea breeze.

The landscape of this seaside town proved to be of enduring inspiration to the artist. In 1905, while many of his Fauve colleagues opted to go south for the season (Matisse to Collioure, for example, and Derain to L'Estaque), Dufy chose to remain on the Normandy coast, painting alongside Albert Marquet in Le Havre, Trouville, Honfleur, Dieppe and Fécamp. The footbridge or estacade in Le Havre proved a favourite motif of both artists during these years, serving as a two-dimensional space where land meets sky and sea through which they could explore the quality of light, shadow and colour. When he returned to the same motif in the 1920s, as in the present work, the influence of Fauvism can still be readily detected in both the intensity of Dufy's palette and in the loose application of paint.

In Dufy's mature style, he combines simplified dark contours with quick washes of paint. The luminous palette adeptly conveys the climate of the Normandy coast, in particular through the use of Prussian blue, a characteristic choice of the artist. In a 1951 interview with Pierre Courthion, Dufy gives a deeper explanation for his preference for this colour: "Blue is the only color which keeps its own individuality across the spectrum. Take blue with its different nuances, from the darkest to the lightest; it will always be blue, whereas yellow darkens in shadow and fades out in lighter parts, dark red becomes brown and when diluted with white, it isn't red any more, but another color: pink" (quoted in P. Courthion, Raoul Dufy, Geneva, 1951, p. 52).

拍卖图录公众号

拍卖图录APP
返回顶部
意见反馈